This story says that the hospital in Louisville is closed indefinitely, because of smoke damage. They were also extra-careful to shut off the oxygen canisters before leaving.
The picture of the destroyed neighborhood is absolutely devastating.
Oh, great. I sure hope it wasn't arson.
3 people considered missing atm:
Oh, and:
My kid in Westminster was not evaded, but a cousin further west was. My kid recently moved to the area from Orange County, and had thought wildfire Eva's were behind her.

Here is video taken from the hospital during and after the fire (originally posted by @Snowboarder_Bo last Friday):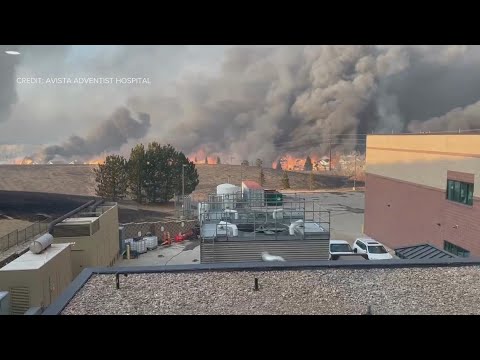 At 1:26, they show the view inside one of the rooms, where the extreme outdoor winds drove all kinds of smoke and ash through the gaps around the imperfectly sealed window. Imagine scooping the ashes from a campfire and flinging them around the room, and you get a sense of just how bad the place must smell.
Re: my family who live in the area, their house is still standing, but they said much the same thing: the interior of their house is seriously smoked up, and a distressing amount of ash and grit got blown indoors through every gap and crevice. Not only that, but gas is turned off citywide for a repair that's expected to take about a week, so they had to drain their water pipes completely. On top of that, the city has a boil-water order anyway, so bottom line, they're hoteling it out of town for maybe a week, and after that, they come home to a smoky house.
They're looking into the possible involvement of [wait for it] a religious cult in the origins of the fire:
Sounds like a lovely group of people … whichever way this aspect of the story eventually goes.
I wonder if there was a burn ban that day in Boulder County?
Unincorporated Boulder County has been under a level 1 burn ban since November 30, 2021, but I think that is just an extension of ban going back to at least June.
The city of Boulder prohibits open burning at all times.
That was a lovely tribute. He sounds like an interesting man.
Has there been any further word on the cause of this?
None that I've seen, and I'm looking. My sister in Lafayette also has a keen interest in it and she hasn't let me know of anything either.
New, but unofficial information looks bad for the Twelve Tribes group. An anonymous source claims they were burning on the 24th, and the sheriff was called, but it was legal because the burn-ban ends across the street.
As has been reported before, the shed that was on fire was on the Twelve Tribes property, and neighbors have reported that they've had problems with the Twelve Tribes group burning things.
I'm still withholding judgement. It's clear the fire started on or near the Twelve Tribes property, but there's no public physical evidence that the start of the fire was related to human activity, either accidental or deliberate. "It is an ongoing investigation."