waxed canvas too, rubber was first used for waterproofing in the 1820's and after the invention of vulcanization but was sticky and brittle when cold. Beeswax and animal fats have been used for most of recorded history and in fact coating ones feet with whale oil was a way to prevent trench foot during WWI.
Note that camping trips were not short during the fad era in the late 1800's and in fact camping for a month was actually the norm.
Beans, oats, "hard tack", dried beef etc…for food and most of it all rolled up into a blanket roll with a "India rubber cloth" for ground cover was common. Remember that refrigeration wasn't common until after WWII at home so people knew how to cook with ingredients that would survive without plastics to seal them.
As an example look at this picture of Teddy Roosevelt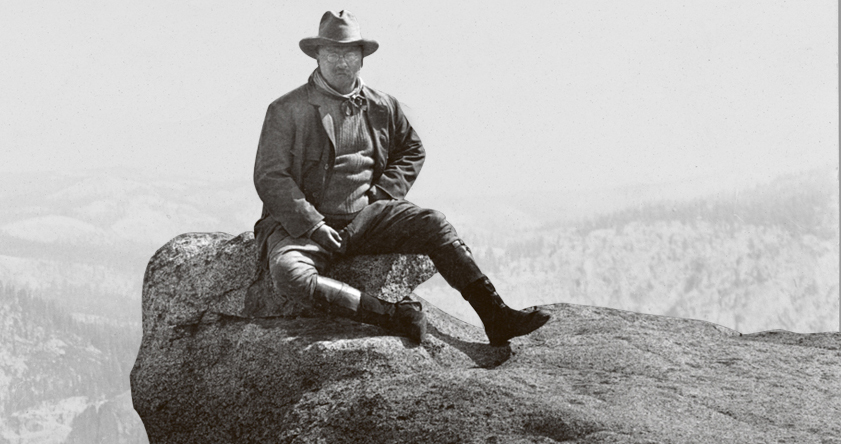 Tall leather boots would be mostly water proof, and could be renewed with rendered fat from cooking if needed. Wool pants and shirts stay warm when wet and waxed or oiled canvas jackets also work well. In fact I ride a motorcycle in the rain with a waxed canvas jacket (or maybe a chrome tanned leather which can be waterproof unlike todays fashion leather) without much problem or in a leather jacket that is made with traditionally tanned leather which is water resistant. And if your hat is made with beaver pelt it works well in the rain. This may seem crazy in a day where fancy hats are mostly rabbit and will fall apart in the rain. There is a reason for the trapping trade was huge and it wasn't just for fashion.
I am in my mid 40s and started camping before gore tex and other breathable fabrics were available and had no issue with leather shoes, wool and other older fabrics and in fact they were often superior to the plastic options. The convenience, lack of maintenance and cost are the huge advantages of modern plastics. Also remember that weight wasn't as much of a problem before the days of the automobile because people were more likely to have a horse or a donkey to cary the load.
Don't get me wrong, when I am bicycling, skiing etc… I would gladly take modern materials and especially the very new versions like c-change. But I grew up camping and backpacking with gear that wasn't too different from 1900 and I think I would miss modern lighting more than modern fabrics. And if it is going to be wet I will always take wool clothing and leather boots because I will be warmer and dryer in most cases.
I wish I could still justify buying mountaineering leather double boots like my old G1s that finally cracked, after 20 years and three soles. They now cost around $500 and I don't typically have time for the significant breaking in period. But with wool socks and silk liners they are far more durable and waterproof than any fragile high tech membrane and they still breath a little bit.