When I heard that this morning, I had to doublecheck which sport this was for. At first I thought it must be rugby, but nope.
There is certainly no joy in Latvia today.
I don't know why they didn't take their foot off the pedal at 5 or 6-0.
This sort of thing is not helpful to the sport IMO and completely counter-productive to teams like Latvia who do not play professionally. Though I understand it was also a much diminished Latvian lineup.
Maybe they can go home and watch Next Goal Wins, the great documentary about American Samoa's efforts after losing 31-0 to Australia.
Because it's a soccer match, not some charity event for the disadvantaged.
Has there ever been joy in Latvia?
There's probably a relevant quote from Brooklyn Nine-Nine here, but I can't be bothered to look it up.
No, wait…
There you go.
I'm surprised; Latvia isn't a tiny European territory like Gibraltar (which has its own team) nor was it something like playing against Papau New Guinea.
Sure, but at some point, the goal isn't to hammer your opponent as hard as humanly possible, in a beating them while they're down kind of way.
I'm not sure which is worse, having your team continually get scored on, despite your best efforts, or having them start doing things like switch positions on you to try and reduce the hammering.
I've been on the receiving end of a couple of 35-45 point losses in American football (basically they scored every time they got the ball, although they had to move the ball down the field to do so, and we had an anemic offense that could get some first downs but not many), and at some point, we just wanted it to be over. There wasn't much fight left in us by about the beginning of the fourth quarter. I can only imagine how horrible it must have been to be on the receiving end of one of those 70 point losses that you see occasionally. Or a 10+ goal beating in soccer. Or more than about 5-6 runs in baseball.
It's tough to do sports when your gym shoes are each sold separately.
You're right, but most teams save their mental and physical energy once the game is well secured. Plus you risk pissing off your opponent who then start fouling you and risking injury.
Still, lots of hattrick scorers full of confidence now in the England camp.
And that's why they did it. They got to pump up everyone's stats (something like ten different players scored, including four hat-tricks) in an international match.
I love soccer, but I agree this was bad sportsmanship. If you're 5 nil up, you're not going to lose, so relax a bit.
There was a similar incident not too long ago where the England men's team (ranked 3rd in the world, I believe) beat the tiny minnow nation of San Marino (ranked dead last in the world) 10-0. I mean, what's the point? What did they think they were proving? To a team like England, the difference between playing San Marino and playing a team of 5th graders is basically non-existent. What's the point of hammering in goal after goal? Secure the win, then slow down. Don't be dicks. Let the other team leave with a little dignity.
I would venture a guess that running up the score to 20-0 isn't based so much off of malice as it is a desire for players to have scored-goals next to their name. After all, your playing career is only so long, the chances to put a ball in the net are few and fleeting, and you want to make yourself seen on the stat sheet for posterity and have YouTube highlights of yourself to watch.
What, by passing the ball back and forth but never attacking the goal?
I'm thinking more about stuff like bringing on some of the weaker players who don't get much field time, dropping back into defence, that kind of thing. Hammering in a goal every 3 1/2 minutes (which is what 20 - 0 works out to) is just gratuitous, IMO.
Without doubt.
A few years back at the Winter Olympics, Canada beat Slovakia 18-0 in a women's hockey game. I love our women's hockey team but I turned the game off after awhile; it was a truly humiliating thing to watch. It was like women playing against their own children; it was barely sport. Their rationale for the slaughter was that goal differential determined seeding, but, come on. You know "I can have 5 goals in this game!" had to be a motivation.
Yup.
Speaking of Slovakia, though, they once beat Bulgaria…82-0 in a hockey game. Now that's an example of "y'know, time to ease off the gas pedal".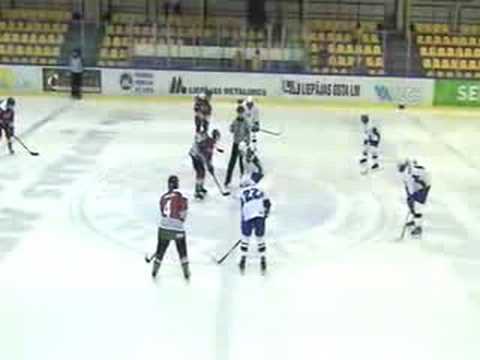 This isn't a friendly, this was world cup qualifying. Goals matter.
You may choose to take your foot off the gas at 5-0, another team in your group does not and you end up with equal points but an inferior goal-difference and so fail to qualify.
The incentive is there to score as many as you can. If you have a problem with poor teams getting battered then complain to FIFA, not the team involved.
I'd join with you in that complaint.
In the 1998 Asia-Oceania Junior (ice) Hockey Championships, South Korea beat Thailand 92-0.
Here is the box score of the first period.