I use my kindle to post here and do other text/composition tasks like email. The onscreen keyboard supports swype, which permits you to drag your finger or stylus across the keyboard instead of typing or poking each key individually.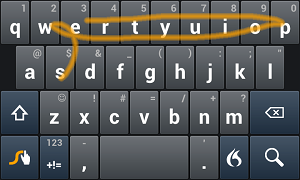 This is my 6th kindle, purchased July 2021, and it's the biggest, latest, top of the line, "All-new Fire HD 10 tablet, 10.1", 1080p Full HD, 64 GB, latest model (2021 release)," blahblahblah.
All our devices do an auto-correct thing, i.e., they post the word it thought we meant. It can be annoying or funny. No biggie. We correct the word or not, and move on. But my latest kindle has a mind of its own-- a dirty mind.
When I swype "was," most of the time it posts "ass."
When I swype just about any word that starts with "p" (like "pretty"), it posts "pussy."
When I swype "clock," and it posts "dick." "Crisp" also produces "dick."
"Ball," produces "Hell" with a capital "H."
This doesn't happen every time. Often the right word shows up. But when the wrong word posts, it's often a borderline dirty word. Like I said, this is my SIXTH kindle, and I've always posted here on the SDMB and sent emails. None of my past five kindles has taken the initiative to correct with slightly off-color words.
Hypothesis: somewhere behind the keyboard/swype suggested text corrections, there's an algorithm. And behind that, a person. And possibly a sly scamp of a person who decided to have some fun on a slow day. What do y'all think?