Most of my holiday memories are great - I can't think of any that stand out particularly. When I was a kid, we did a lot of things as a family like make ornaments and be in the Christmas pageant, go Christmas caroling- fun stuff.
On Thanksgiving, Daddy would invite foreign students to eat with us, and I've met so many fascinating people that way.
When my kids were little, Christmas was really the best, some of the most fun times we had together. I loved making cookies with them, staying up the night before putting things together, watching them open things and playing with new toys… again, fun stuff.
I've enjoyed getting together with different family members over the years, cooking, eating, drinking … lots of fun stuff!
It's all good.

One Christmas when I didn't have anyplace social to go, a fellow I didn't really know all that well talked me into coming to his house for Christmas dinner. I don't think I'd ever met his wife before, and her parents and maybe a brother or two were there. They were all so warm and kind that it was perfect.
My best holidays were in the place I now live. The Isle of Man.
As you would expect - the novelty of the place has worn off now that I live here, and am an adult, but as a kid I loved this place. Particularly the paddle boats at Silverdale.
The Christmas I got a J.C. Higgins .22 bolt action rifle from my brother. I still have it, some 50 years later. And no, I didn't shoot my eye out and there was no compass in the stock.
Wait, does this mean 'holidays' as in 'anniversaries' (birthdays, christmases, etc…)
Always being caught out by the UK/US language barrier.
I suppose that I need to post something here. My post in the other thread was more cathartic than I realized it would be and I need to do something to offset it.
Christmas has never really been a fun time for me. I am not religious; quite the opposite, actually, so it has pretty much turned into just a time of obligatory gift giving. However, SWMBO has slowly been dragging me (kicking and screaming) into the spirit of the season, so to speak, so I'm not quite the Grinch that I usually am. We usually try to buy each other something kinda unusual, but not terribly expensive and disguise the gift somehow.
Last year, she and I planned to get a new guitar for Stepdaughter who had hers stolen in a burglary. We went down to the Guitar Center and I played most of the 6 string guitars there, trying to visualize what it would be like to play this guitar with smaller hands, etc. We settled on one, along with a case, extra strings, tuner, picks, etc. and concocted this elaborate plot about how on Christmas Eve, I would get my guitar out and play for SWMBO, then just put it back in the case and leave it leaning in the corner. After Stepdaughter went to bed, we would switch it out for her guitar and leave it hidden "in plain view".
We pulled it off as planned. Stepdaughter opened up all the little gifts and we made wisecracks about how this was all for when she got a replacement guitar, and then said, "Well, maybe Santa came through for you" and got the guitar out.
Except…it wasn't the guitar we had bought. While we were in the store, there was a Takamine 12-string hanging on the wall that looked like a 1st cousin to my 6-string. SWMBO asked me to play it for her so she could hear what it sounded like. I was glad to do so. Unbeknownst to me, she went back the next day and bought it along with a case, strings, etc., and swapped it for my 6-string on Christmas Eve after I had pulled the switch on the first guitar. Stepdaughter was in on her swapping the 12-string and simply thought it was a surprise for me and that it was my 6-string that was getting hidden back in the utility room. Imagine her surprise when SWMBO hauled that guitar out and gave it to her.
SWMBO sandbagged us both. She is a sneaky, underhanded, conniving woman. And she is wonderful. I'm afraid of what she might do next month.

Here are the two guitars on Christmas Day: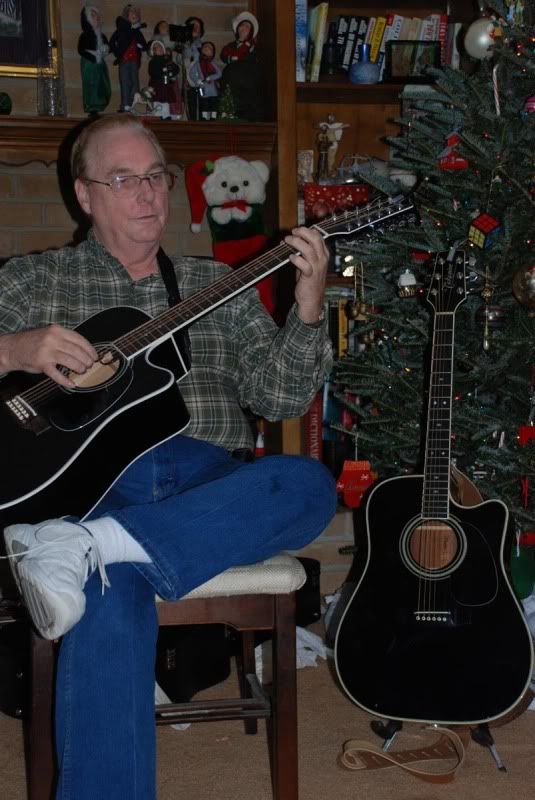 The last Christmas my parents were married, I was seven. Everybody I loved lived in the same place and nobody lived anywhere else (Mom and I moved from Mississippi to California after the divorce.)
I got a little toy that if you pushed the button, a Christmas tree would spin, and reveal Santa inside. I loved that thing, once I got it going, but it took me a while to work it out. My Daddy sat patiently with me while I figured out how to make it work. I have a picture of us doing that, with me so earnestly concentraing, my little hand in his, as he helped me to play with that toy. I have another picture of my huge grin, making the toy spin to see Santa.
I remember very clearly that day, running around in the back yard (I had a cowgirl outfit I wanted to wear) with my Dad, then coming in from the cold and having hot chocolate and fruit cake cookies and ambrosia. He drove truck, so he was gone a lot, but he was home all of Christmas and I spent the whole time pretty much glued to him. He even told me a story that night and tucked me in (still wearing my cowgirl outfit, as I recall.)
It's my last clear memory of hanging out with my Daddy, before all the shit went down. We don't speak anymore, and I pretty much hate him, but he's not that guy anymore. I don't know what happened to that guy, the guy that played with me the Christmas I was seven, but I loved him so much and that was the best Christmas ever, hanging with my Dad and messing around with stuff.
Suppose this could go in both threads. Sorry.

My first Thanksgiving away from home. It was my third year of college. The first two years I lived in the dorms and went home for Thanksgiving. In my third year, I was living on my own. Actually, it was a two bedroom apartment, right on the beach in San Diego (Mission Beach). The area has since been re-gentrified and no college student could afford to live there now. Back then it was seedy and a little dangerous but it was on the fucking beach and it was amazing.
I shared the place with Dave who I met in the dorms freshman year. We got along great and are still in touch and friends to this day. I think that both of us count Thanksgiving 1984 as our favorite ever. As soon as we moved in we made friends with some of the locals, some of whom were semi-homeless. They looked out for us, the two geeky, naive college kids. I found out that our place was robbed two or three times the year before but no one ever fucked with us because we were protected.
Dave and I decided to make our own Thanksgiving. It was a real one too. We got a big ass turkey and ingredients for stuffing, gravy and mashed potatoes and pumpkin pie. Dave's mom was sure that we wouldn't ever be able to pull it off but we did. Dave and Hooter did most of the cooking.
Hooter was a local guy who "ran" the area where we lived and was the main guy who made sure that no one fucked with us. He was a Viet Nam combat vet and never got it totally together when he got out of the Navy. We'd let him sleep on our couch a few times a month. He'd deal weed sometimes and we'd let him store his stash at our place when he got a big shipment.
Dave was armed with his mom's recipes and Hooter, it turned out, was an excellent cook. The food turned out perfect. I know a lot of it was the situation but I remember it as the best tasting Thanksgiving ever. We invited a few of the locals, a couple of whom were homeless at the time, over to share the meal with us. We ate great food, smoked joints and drank cheap beer and experienced a Thanksgiving in its purest form.
I am not a man who enjoys traditional holidays but thinking back on that one always makes me smile.
Mom's birthday just a couple weeks ago. She turned 55, or as she called it "mid life". Her birthday has always been immensely painful for her - she emigrated on her birthday. So her birthdays are always marred with the horrible memory of communism, family separation, poverty, hunger and a new world. My dad has somehow always managed to fuck up her birthday as well - forgetting the flowers, not getting a dinner reservation, not wishing her a happy birthday till his calendar reminder, etc. Habits he never lets happen on their anniversary or Christmas, either. Her 21st birthday was forgotten by her family entirely. She had her wisdom teeth out on her birthday another year. She's someone who asks for nothing and is wholly devoted to our (the kids) happiness, so a selfless person is even more deserving of a great day. Compounding the whole issue is that she has enough money to buy anything she wants at any time. So it's the old "what do you get the person who has everything" quandry compounded. So I set out to make it a great birthday for her. I love her, this year as been stressful. She's more than earned it.
I took all the knowledge she'd ever imparted about it (she hates surprises and jewelry, any form of planning makes it her "job") and planned and planned. Over the years I've accepted my role as the social lubricant in family events: I plan and orchestrate them, I inform everyone involved, I make special requests, I remind everyone last minute where and when to be there. I laugh, joke around and avoid the pitfalls that get us into fights - and I lie. I lie through my teeth to get my family to the dinner reservation on time because they are chronically late.
My dad had 3 reminders for the flowers. Both brothers got early morning text messages as reminders. So it started off on the right foot - for just once, it washer day. Everyone is pleasant, the house is picked up, beds are made, the dog is walked for her, everything is taken care of in preassigned chores. Nobody slacks off.
We have a great big table at a new restaurant she loves. I arrive early with the SO and the cake (a large tiramisu, which the staff chills) and the service is incredible. The food is great and keeps coming, with appetizers we all share. My brothers are on their best behavior. The Littlest Bluth held the news of his A on a Trig test till dinner; she's thrilled.
She opens her present - it's an external iphone battery. Just $25. Her jaw drops - she didn't even know such a thing existed but it will, immediately, make a difference. She uses her phone constantly and it dies at least once/week. She's babbling now, how it's the best present ever. High praise from someone with high expectations.
The tiramisu comes out - is it chocolate cake, she hopefully wonders. Nope, it's actually your favorite mom…and she actually shrieks in excitement.
Dad, always the cameraman, takes a picture of us all. Everyone is genuinely, terrifically happy. The head of the household, the woman who wasn't sure if she wanted kids and ended up with three, who grew into the role of mother, is actually happy.
The candles lit, she pauses. "Make a wish!" we cry. And she tilts her head and her eyes well up. My dad is behind the lens, he can't see her. My brothers don't know yet, she hasn't told them. But I too well up because I know that she's having a flashback to that awful day, that day filled with tragedy and terror.
She chokes back the tears and grins from ear to ear. Softly she says "This is the best birthday of my life" and blows out the candles.
Aw, these stories are so nice!..When I was a little girl, at Christmas I was told to close my eyes and when I opened them, there was a tin dollhouse, all open in the back (a real antique now!), and a few little figures and some plastic furniture. I had SUCH fun with it, I made pictures to stick on the wall, made bits of carpet for each room, and accumulated lots of little people and animals and played out psychodramas for years after…When I was in my early 20's we would drive down to Westchester County, over the Tappan Zee Bridge, and spend Thanksgiving with my rich uncle and his wonderful family. The next day, we'd go sightseeing in The Big City - Chinatown, all the stores, the Empire State Building, St. Patrick's Cathedral - and in the evening see a Broadway show. We saw John Travolta, Jeff Conway, and Mary Lou Henner before they were famous. Good times! (All in the past. Now I hate Thanksgiving, everyone in my family is dead or moved away, the two that are left are disabled and I have to create The Big Jolly Holiday Dinner for them, in addition to my husband and daughter's. Thanksgiving is about as fun as a migraine.)
Lindsaybluth, that brought tears to my eyes. A lot of them.
Me too dammit. And here I was thinking I was an awesome daughter for making my mother a rainbow cake with pink fondant and pink sparkler candles.
Heh, I shed a few while writing it

My single greatest holiday memory is from Thanksgiving of 1997. I was 11 years old. It was a beautiful fall afternoon, just chilly enough to smell fireplaces, and after playing outside all day as usual, I watched the Beavis and Butt-Head Do Thanksgiving special on MTV with Kurt Loder. I thought it was absolutely hilarious and I loved the videos for Fiona Apple's Criminal and Marilyn Manson's Long Hard Road Out of Hell which were played on this special. It was also, I believe, the last Thanksgiving we had at my family's house that my extended family was at - my father and uncle would later have a falling-out that spelled the end of holidays with their two families together.
11 was really the age where I first started becoming immersed in pop culture and listening to my own music, and so the year 1997 will always be powerfully nostalgic for me; I can never hear the music of that time without feeling sick with nostalgia. Weezer, the Cranberries, Third Eye Blind, Marilyn Manson, Marcy Playground, Better Than Ezra, the one-hit wonders (How Bizarre, Sunny Came Home, even Where Have All the Cowboys Gone!) This was also the year that I got Final Fantasy VII and Goldeneye and I can barely play those games now without painful nostalgia for a time that I know I can never go back to.
Simchat Torah has always been my favourite holiday both because of timing (it's the first time after Yom Kippur that we let loose and celebrate as a community) and consumables (sweets as a kid, whisky as a grown-up, what's not to love?).
Last year it was when my husband decided to convert. We'd been together for about a year and I'd started taking him to festivals and house parties that I thought he'd like, starting with Purim. He enjoyed himself but as an agnostic-y type for whom religious practice has never been very important, said he felt nervous about participating and like he wasn't part of the group.
After he got to know my rabbi (she's a friend of the family too, so we'd see her at my parents' for dinner sometimes) and other friends from my community, he started feeling more comfortable at festivals and I wouldn't have to spend ten minutes reassuring him beforehand that nobody was going to be giving him funny looks or talking about him for (gasp!) being a goy at a Reform Jewish party. Really, nobody at our shul cares, but he has minor social anxiety and said he felt like an outsider every time he went to something, even though he enjoyed them overall.
So at dinner the week before my mother, our rabbi and I were talking about how excited we were for Simchat Torah that week, and my husband went "There's ANOTHER holiday coming up? You've already had like three this month!" We excitedly and somewhat incomprehensibly explained that it is the BEST holiday because there are POLKAS and WHISKY and basically everybody gets drunk and dances around and there's an accordion and it's GREAT FUN and the BEST FESTIVAL EVER!



So he came along on the night and it was, indeed, rowdy and great fun, and at about the fifth or sixth time round the synagogue with the Torah scrolls, when everything had just collapsed into total klezmer chaos and the wardens had stopped bothering to count, our rabbi came over to us and said to my husband, "She promised you whisky and polkas and we came through!" I started laughing and elbowed him and when I looked up at his face, he looked more happy and relaxed than I'd ever seen him in shul (this could be because everybody was three or four shots of whisky down at this point). A few minutes later when we were all doing one of the big group circle dances, he leaned over to me and said "I want to be a part of this!" I figured he was just being a happy drunk but two days later he said he'd figured out that the reason I and all my family could be both ignostic/non-believing types and also fairly highly observant, friends with the rabbi, on lots of organisation committees for the shul, etc. is that community and culture are very important to us (duh) and he wanted to be a full part of that community with me.
His parents both died when he was in his early 20s and he'd said once or twice before that he thought of my parents as his own family. Everybody cried when we told them that he wanted to join Team Judaism too – even while sober.

This is a story of one of my favorite gifts. I have told it here before, but it is a warm memory and Mom recently talked about it.
I buy all of my gifts early. It is a habit from when I was poor. One gift a paycheck starting in August, so that I don't feel the impact too much.
In the 1990s on a whim I bought Mom and Dad a video game for the computer Nintendo 128 I think. I don't know why I thought it would be a good gift, but I bought it. Back then it was way more than I could afford.
Since I buy early, this gave me months to have buyer's remorse. *OMG What were you thinking! They'll hate it and you'll have wasted your money!
*I was wrong. They were thrilled. Mom and Dad played Ms. Pacman against each other. Mom said that they played it every single day that year, except the one day when Dad couldn't get out of bed because of pneumonia. Mom would get up in the middle of the night and find Dad practicing so he could beat her the next day. Mom would race home from work to start dinner and get a game in before Dad got home. They would come home from a long trip and say: Just one game and then off to bed, and then play to way past midnight.
A year of bonding and fun and good memories for Mom (Dad has since passed) - what could have been a better gift for them?
All of my Christmases have been good; my family is sane, my parents are together, and I always make my way home for it. Two Christmases stand out, though.
The first is probably more my mom's story than mine. On Christmas Eve 1983, I was three years old. It was the first Christmas that I was smart enough to really "get" what was going on. At about 7pm on Christmas Eve, my mother suddenly decided that she hadn't gotten me "enough" for Christmas to be really fun, and went to a toy store. She was standing in the doll aisle when in came… a shipment of Cabbage Patch dolls, the hottest, hardest-to-get toy of that holiday season. She bought one with brown eyes and brown hair, just like me.
I can still remember seeing the tree, that morning. I was three. I didn't remember anything about Christmas from the year before. I don't think I fully understood that there would be presents. Sitting around the tree were the doll, and a high chair for her, and a pram for her. It looked just like a Christmas card picture of a tree after Santa has visited. It was pretty damn magical.
The second Christmas was two Christmases ago. I'm an only child, and my family does their big together-do on Christmas Eve or the weekend before usually, so on Christmas morning it had always been just me and my parents. Since I'd grown up, that had gotten kind of quiet and sad. But that Christmas, I had just gotten engaged. My husband's family celebrates Thanksgiving way more than Christmas, so he spent it with us. I can't explain to you what a breath of fresh air he is; he's funny and gregarious and knows how to enjoy himself in a way my parents just don't. It was absolutely lovely, being engaged to him and having so much fun over Christmas.
Best Christmas came when I was about 6, so my sister would have been 13. i was a kid who ran a fertile imagination; being the youngest of the maternal cousins, I had a collection of hand-me-down doll furniture to play house with. That Christmas, my sister and Mom used up leftover swatches of material to make a big collection of doll clothes for my 'children' (including the black and white cat, Boots).
We didn't have much, money-wise, but I still remember the richness of a small trunk full of doll's clothes. And we still have some of the pictures, of my tea party (with the cat trying to make a run for the back door), as sister had received her first camera:)
Thanks **Janis_and_c0 **for starting this thread. Nice antidote, and my apologies for bumming everyone out with my original thread.


My family isn't religious, so the majority of the holidays were basically just candy & gift/greed orgies for us kids. I remember one Easter, in addition to the requisite basket of sugar products, my mom gave us these neat eagle toys that we totally loved – ZOAR, the eagle! We assembled the plastic and Styrofoam parts into big huge eagles with something like a two-foot wingspan – like big bird-shaped paper airplanes or gliders with big yellow plastic claws at the ready to dig your brains out!! My younger brother and I played outside all day with them, sailing them down the hill shrieking and retrieving them, running back up, sailing them again…
The best Thanksgiving I ever had was when I was living in Mendocino, CA. I hosted an "orphan's Thanksgiving" for my coworkers, who comprised the culinary & service staff of two of the best restaurants in town. We were all foodies and culinary maniacs of every stripe, so needless to say the food was flawless, awesome in every way imaginable. We wuz bringin our A games wit' tha European butter out all the way. Local cheeses secretly imported from across the valley…tons of local wines… The one vegan guy & his girlfriend abstained from cooking and eating the meal, but in that great northern California holiday style, contributed "Jaeger and fatties" - including a custom PVC bong constructed for the occasion and an elaborate crystal Jaegermeister gift set. Many fine foods were et, drinks were drank, fatties got fired up, and we all enjoyed the most fabulous chill evening. And we even cleaned up like pros. There's nothing like having a tight team of pros bust out their favorite stuff, running like clockwork,while getting looped/baked and still plating complete art.