I am talking service, scenery, comfort etc., not just in the U.S., but worldwide.
I'd really like to win the Powerball and give this one a whirl:
If you consider 35 hours "multi-day", in terms of scenery Amtrak's Coast Starlight (Los Angeles-Seattle) is supposed to be the best within the US. I've ridden the portion from Sacramento to Santa Barbara, and can attest that the scenery between Paso Robles and Santa Barbara is pretty amazing. South of San Luis Obispo the tracks run right along the coast. I remember sitting in the observation car spotting whales in the ocean. In terms of service and comfort, supposedly Amtrak's sleeper cars are reasonably comfortable. If I were going to do the entire 35 hour trip I'd totally spring for the sleeper car. Unfortunately they've apparently discontinued the Pacific Parlor Car, which was a 1950s era First Class Lounge car that the sleeper car passengers had access to.
The Seattle to Chicago is not good. It leaves Spokane around midnight and crosses the Rockies in the dark. You wake up just in time for eastern Montana.
I've heard the Canadian east/west is better but I don't really know.
I wouldn't mind taking the Orient Express, someday. I've been growing my best Hercule Poirot 'stache should the occasion arise.
Did you board in Spokane? I love the Empire Builder and have taken it from Seattle to Chicago. If you go in summer and leave from Seattle, you see the gorgeous Cascade Mountains while it's still light outside and wake up in western Montana, where you see some glorious scenery close to Glacier National Park . I hope to make that trip again someday.
I can see why it'd be rough to leave from Spokane, though
How does it work out on the trip back?
I've ridden VIA Rail's The Canadian a few times; most recently in 2003, when I went westbound out of Toronto. It's changed a bit, as VIA's website tells me, and while it will still take people between A and B, it seems to be trying to turn into a "rail cruise," with luxury suites, and so on. However, there are still Pullman sections, roomettes, double bedrooms, and the dining car for those who don't want a suite, complete with a dedicated porter.
Scheduling is difficult, as freight traffic gets priority, and passenger trains often have to pull onto a siding to let a freight pass. Still, VIA tries to schedule the most scenic parts of the trip during daylight hours. Most times, it succeeds but sometimes it doesn't.
What about the Trans Siberian Railway? Is that any good? Although I cannot imagine that multiple days crossing Siberia would be very scenic.
My parents rode it years ago. But I never asked them about it.
I was somewhat befuddled by the claim that the Empire Builder "crosses the Rockies in the dark," since that hasn't been my experience (and I've taken it several times).
Per the timetable, the eastbound train leaves Spokane at 01:45 Pacific time and goes through Glacier Park between roughly 08:00-10:00 Mountain time; westbound, it goes through the park between 18:00-20:00 Mountain and arrives in Spokane at 01:40 Pacific. So unless the train is disastrously behind schedule, one would only miss Glacier — the primary "crossing the Rockies" segment — in the dead of winter westbound.
I would also recommend the "Canadian" (during non-Covid times). I had a room to myself, all meals included (prepared on board), and access to free light snacks (and lectures by experts on whatever area we were passing through) in the rear observation/dome car. We were many hours late in northern Ontario, but made it all up by the time we got to Vancouver.
I have been on the two Australian long-distance trains (the "Ghan" and "Indian Pacific"). Major changes in scenery from day to day, and excellent meals on board. (if you enjoy high humidity, and 40 C/105 F temperatures - Darwin (at the Ghan's northern end) is the place for you

)
There's also
Czar should watch Mighty Trains, an episode of which features a Maharajas' Express route. The BBC has a similar series, presumably focusing on passenger trains.
There's the Blue Train in South Africa. 'Five-star hotel' facilities and meals, and it passes through some beautiful scenery. It's been running since 1946.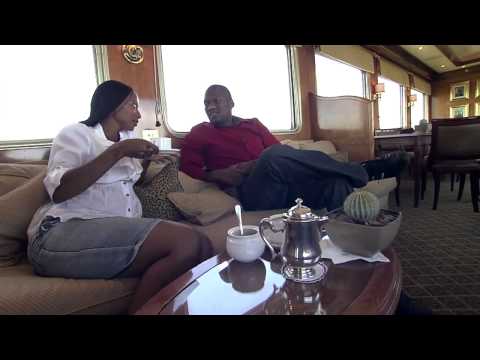 If you get on in Spokane you won't be settled in and sleeping until 3AM. You lose an hour and it leaves East Glacier at 10. Sunrise in Libby right now is 6AM. If you sleep between 2 and 4 hours you get to see some cool stuff. I would not consider it one of the best multi-day train trips. It's fine for visiting family, and it's cool like most train trips.
I've only ever left from Spokane. I can see how it would be better from Seattle.
Probably not the best in the world, but the California Zephyr (Chicago-Bay Area via Omaha, Denver, Salt Lake City, Reno, and Sacramento) is right up with the already-mentioned Coast Starlight for the U.S.
You go through a good chunk of nearly-featureless prairies between Chicago and Denver but you also go right through the middle of the Rocky Mountains* and the Sierra Nevadas and you see a good chunk of desert landscape. As I recall, you go through some canyons, in the mountains and the desert, that have no highways and the only way to see them is the train, hiking and/or rafting.
*"Through the Rockies, not around them" was an ad slogan for the pre-Amtrak railroad on this route.
Prairies are not nearly featureless. Thought we were fighting ignorance here, not reinforcing it.
Fair enough. For those who consider prairies interesting, it's another mark in favor of the California Zephyr.
There's a series on the Smithsonian Channel, Mighty Trains, where they feature various long-haul passenger trains across the world. They did an episode about the Rocky Mountaineer, and as I look at Wikipedia's entry on the train, I think that the show featured the "First Passage to the West" route.
It looks fabulous, and interestingly, while it's a multi-day trip, you don't sleep on the train – you overnight in a hotel.
Guess who lives within a mile of the track of the California Zephyr? At night I can sometimes hear it coming into the depot.
One could look at worse scenery. Everywhere can't be the Grand Canyon or the Blue Ridge Mountains but everywhere deserves preservation and respect.
Empire Builder 1st hand experience: From La Crosse, WI to Everett. Week after Labor Day 2019.
Westbound it was getting pretty dark when we stopped in East Glacier. But it was foggy and rainy as well so that made the view suboptimal. I think it would be fine in the summer
Eastbound I was eating breakfast when we stopped in Whitefish. I went to the view car for the trip by Glacier NP. Much better WX and view.
There were definitely some good scenery elsewhere (the section near the Mississippi is nice, but I see that every day)
Brian