I didn't see anywhere this was being discussed and am curious about Dopers take on it. Admins, merge if needed.
Back in Nov/Dec, I don't remember when, there was a board meeting with WotC. Transcripts/audio from that had an exec say that WotC, specifically DND was "under monetized." At the time, my understanding was that the new leaders saw that twenty percent of people playing DND (the DMs) bought most of their products and were trying to figure out how to "monetize" players. I don't know how they will do that, personally, but that seemed to be what they were saying.
In the past week, leaked documents from WotC indicate that they are trying to get rid of the OGL1.0 and OGL1.0a, which a lot of systems use.
There are a ton of YouTube creators also talking about it.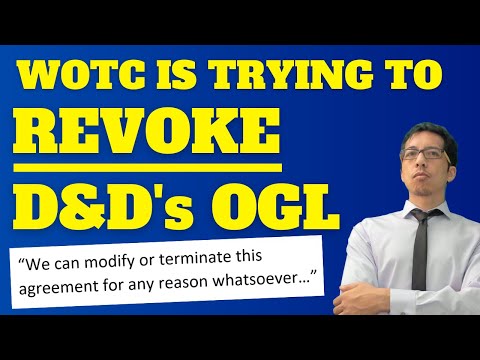 The highlights.
If anyone wants to make content compatible with 1DND, they have to sign the new OGL1.1, whether commercial or not. The content creator gives control over it to WotC plus has to report earnings over certain thresholds and give WotC royalties. (somewhere in the 15-25% range) The OGL1.1 has language that negates OGL1.0a. The big question is whether or not that is possible and it might not be known until tested in the courts.
I have watched and read many things on it and it hits a lot of creators out there, including Paizo, Green Ronin, Critical Role, and more. As it is the weekend, there has been no new update to know if this is true or not. WotC was going to release the OGL1.1 last week but never did and all we have is the leaked document.
As a non creator but who likes the community, I'm against what I have read in the OGL1.1. It also won't affect me being a non creator. I can still run both of my games on Foundry and it doesn't change a thing.
I don't know how this helps get money from players or if it's even related to that. DNDBeyond already allowed for purchase of sub classes, items, and spells for your account, which can be used to make characters. However, if this OGL does go forward, I suppose if WotC starts outputting more content, maybe some of it might interest players.
Has anyone else been following this? Thoughts? Thanks!