Err… This isn't quite what you said earlier.
"It's not music". Bold claims. I could easily dismantle this assertion by pointing to Power/Progressive Metal (Nightwish, Rhapsody, Blind Guardian, and Dream Theater are masterful songwriters, composers, and virtuosos), but I figure you don't mean bands that are "musical" but still somehow classified in the same overcategory as extreme metal…
No, you mean these guys.
First of all, lemme get this straight. This isn't directed only at Naxos, nor is it directed at people who simply don't like metal as a genre-disliking metal is a perfectly legitimate stance, like disliking anime or disliking pop music (i.e. you're kind of being stupid because saying "I don't like metal/pop/anime" entails the dislike of so many different things that the claim is kind of hard to make; you may hate modern pop like Justin Bieber, but I bet I'd find a soft spot for some of Michael Jackson's repertoire). No, this is directed at people who do not think metal is music. Why rant at them? Because they are wrong and stupid.
This is a little essay I picked up from a friend of mine. I'm going to add to it the case study of the song above, "Slaves shall serve", which is one of the more brutal songs I personally enjoy.
To go back to Slaves Shall Serve, I hope I don't have to spell out the melodic and harmonic elements. They're slightly mitigated, but they're still very much present, underlaying the song's raw core with a creepy, frightening melody.
Try to bring out that roar Nergal (the singer)'s voice. Even if you can pull it off for a short time without it sounding forced/emotionless, try doing it for the whole song. Now imagine singing like that for a 2-hour-long double set, and you see what the problem here is.
Father ov Terror!
Abu ol-Hol
enter the pylon
thru' the galleys ov past
catacombs ov night
into the starry womb
slay, slay!
Asar un-Nefer
we have no fear
our time had come
our will is done
dance, dance!
O Mighty One
in the fields ov Aqert
and spit
upon slaves ov death
War God!
trample all weakness
this is your day ov pride
draw Thy flaming sword
cut the umbilical cord
to set me free from eternal sleep…
…step by step
evolution; spiral vibration
can you hear?
can you touch?
can you see?
can you really see?
we charm all jins -
automata, inprinted realities
they creep like snakes
and all we feel
is painful bliss
as we burn forth
like winged globe
like solar disk…
…and penetrate eternity
Slaves shall serve!
Slaves shall serve!
Slaves shall serve!
Slaves shall serve!
…Now tell me that that isn't more meaningful and poetic than some castrato singing about their "baby, baby, baby baby baby ooh"…
I don't really think I need to go too far in to this. "Inferno" is the drummer in that video clip, and there are probably less than 100 drummers in the world who can play that song at that speed. But if that didn't convince you…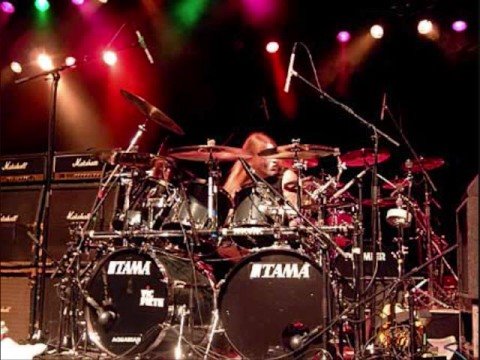 Same drummer. Live show.
Doesn't really apply here…
That song… When I first heard it, I felt locked up. I was literally marching in lockstep to the beat, and for one of the few times in my life, I thought I felt a higher power over me… One named "Nergal". This song, like a few others this band has produced, has a truly profound effect on my emotions when I hear it. It's just amazingly powerful.
And after all, isn't that what music is all about? Using rhythm, melody, and words to create a powerful imagery, or at least some emotions? When I listen to a song like Slaves Shall Serve or Daimonos (also from Behemoth) I can see it immediately; the court of some profane, ancient god, the hedonistic lustfulness all around, the slaves bowing on their knees before their masters… It is incredibly powerful.
Now does this mean that all metal is good? Or even that I like all metal? No. In a genre that can go from this to this to this, there's an incredible amount of variety, some good (the aforementioned 3), some bad (Deathcore… blech), but either way, there's something for everyone.
So you know what? I take it back. I do pit people who hate metal, because it's like hating video games, or hating books. You're going to find something in the genre you like, because it's so damn huge. And those who think metal is not music… Well, you my friends may burn in hell for as long as you see fit to continue that opinion.