I think I've owned more 10/22's than any other gun, I typically buy a decent condition used 10/22, have fun with it for a few months, only to trade it off on the next "gottahaveit" gun a few months down the road.
I'm a manual action guy at heart, and prefer a good bolt or levergun to a semiauto, I like working the action, it just feels more natural to me, it may also explain why I only drive manual transmission cars, I hate sludgeboxes.
Somehow, though, I can't explain it, I've fallen hard for my current 10/22, to the point that I've actually put time into modifying it…
It started as a used 50th anniversary Design Contest Winner

then I installed a KIDD bolt buffer, A BX trigger with auto bolt release, and TacSol extended eject lever
Next, a PWS Raptor midnight stock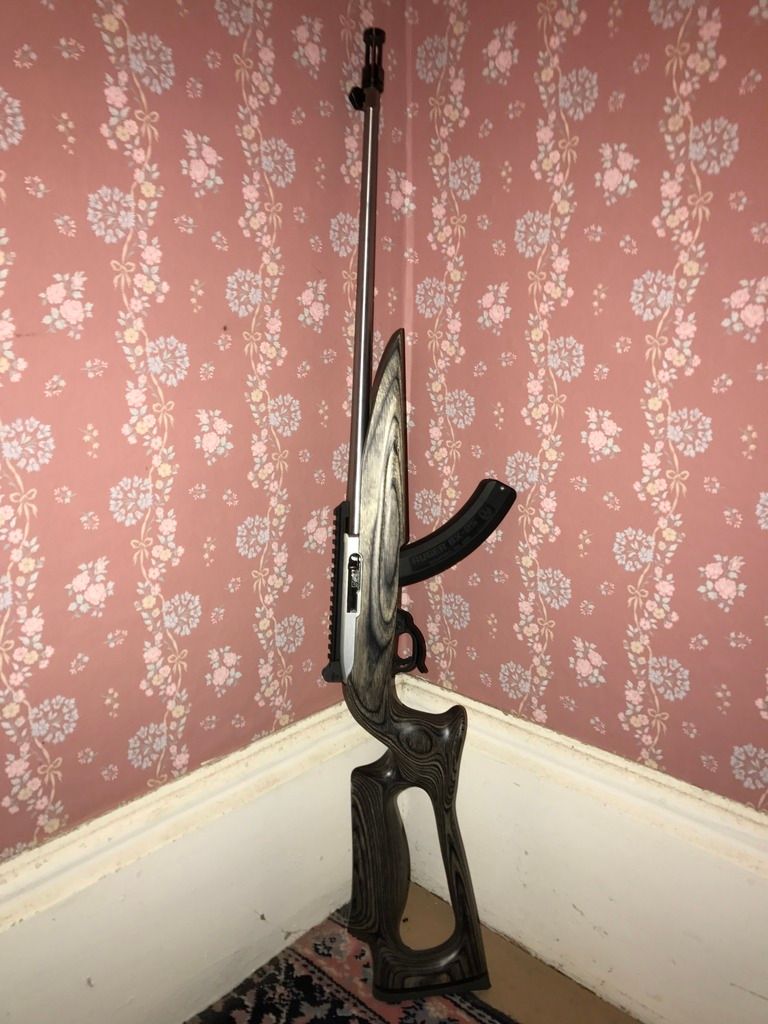 And a pair of KIDD oversized trigger group pins
And a KIDD extractor
The reciever, bolt, and barrel are still factory though, I may send the barrel to Conneticut Precision Chambering for chamber work and perhaps a target crowning, but other than that, I think I'm happy with the way it's set up now, it's just plain fun, the Raptor stock has great ergos and looks cool, heck, even the sporter profile barrel looks good in the Raptor
It's a fast handling, lightweight plinking/fun gun, I haven't really shot for accuracy yet, it's fun as it is, I can bounce kinetic targets, spinners, and swingers on my backyard range and have a blast with it as it is
With the KIDD extractor, the gun is 100% reliable, no stovepipe jams, which the factory extractor is notorious for
It's just a plain fun gun, if the Hearing Protection Act passes I'll get a suppressor for this setup, it'll make plinking a bit more pleasant.
So, what's your favorite 10/22?