Blue Beetle (Ted Kord) let himself get a little pudgy on occasion, though he was not always so, I guess it was a battle he constantly fought and occasionally fell behind on.
In the "humorous hero" department, there's the Blimp from The Inferior Five.
Thanks, that brought a smile to my face. I remember the Electric Company quite fondly. That usage of the Blue Beetle name was entirely unconnected with any of the comic-book versions of the hero of that name.
Ten years ago, one of the first three replies would have been "Fat Albert".
Cosby's RL issues aside, is Albert a hero? I would have thought of him as just a character.
There's Pig God from One Punch-Man.
From G. R. R. Martin's Wild Cards series, there's Michelle Pond, aka The Amazing Bubbles who is an ace with the power to absorb and re-release energy, storing it temporarily as fat in the interim
Based upon this I ordered the first book in the series- thanks!
Even Hornblower had a middle aged paunch.
But in general, fats guys- or gals, are seen as the bad guy, or the comedy relief.


In the new Black Widow film, the character of Alexei Shostakov / Red Guardian (who is essentially the Russian version of Captain America), played by David Harbour, is a few years past his prime, and has developed a "dad bod."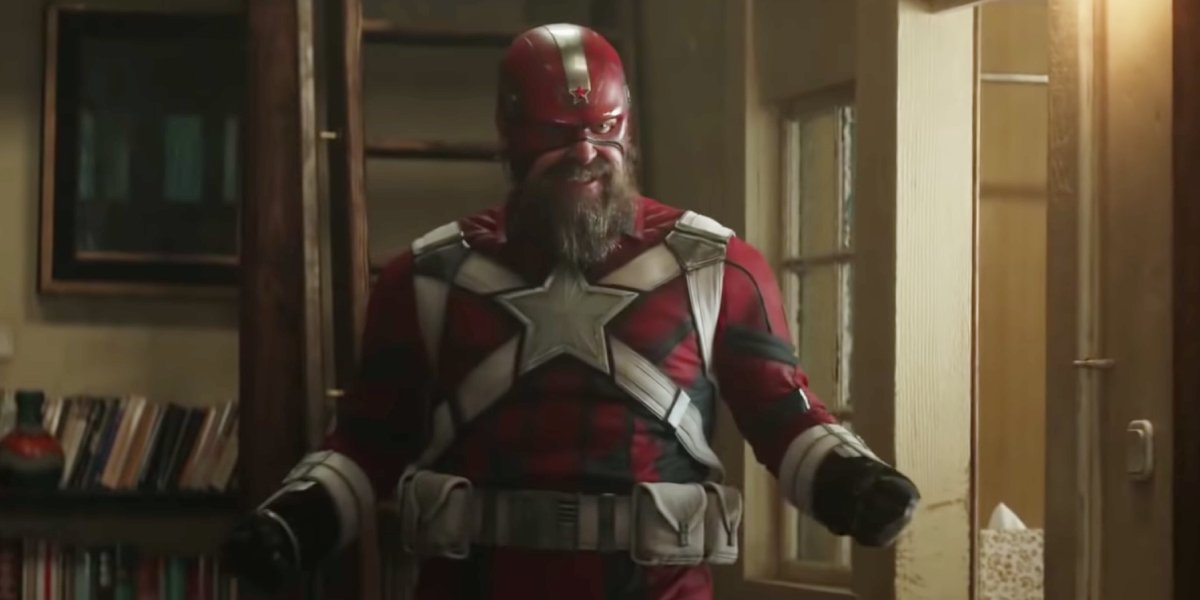 There's always Dad-bod Thor.
My kids saw End Game before we did, and teased my wife, saying "you get to see a lot more of Thor shirtless!" They weren't lying. There was a lot more of Thor there.
In the book "Ready Player One", when we finally meet Percival in real life, she is described as "rubenesque". It never comes up again.
This is one of my pet peeves, the way they padded out David Suchet in the TV series, so much so that he reminded me of Danny DeVito's The Penguin. He is only described once in the books, in The Mysterious Affair at Styles, and it was that he had an egg-shaped head (not an egg-shaped body) and a touch of embonpoint, which means he was a little pigeon-breasted. So not fat, also not athletic, just soft in his late middle age. This concludes my off-topic rant.
That's a fair criticism. I watched a few of the series, but I was never a big Hercule Poirot fan and didn't read much Agatha Christie. I defer to your superior knowledge on the subject.

Lewis Barnavelt, boy hero in a series of books by John Bellairs, is an overweight kid who's bad at sports and gets mocked by nearly everybody at school. He's an orphan, taken in by his uncle who is a magician. The best known book in the series is the first, The House with the Clock in Its Walls, which was made into a movie (Jack Black played the uncle). Lewis stayed a nerd in the movie, but he wasn't overweight there.
You see that a lot. See "Ready Player One" as an example. Heaven forbid we have a female protagonist who is overweight when it really doesn't matter.
Ugh. Let's just try to forget about that.