Sounds like the perfect match.

Awww she looks a real sweetheart

Good for you, hope the forever home works out. If not, would you be able to keep her?
I would pay the adoption fee if I were to keep her. She has been such a good girl! Absoutely no accidents in the house and getting along with everyone. She is a snuggler too.
Trying to not get too attached…
Heh.
Well, I hope everything works out with the dog's new owner.
She looks like a sweet girl. Almost wish I could take her myself, but the prospective adopter sounds like someone LuLu would be quite happy with.
I don't think I'd be able to foster. It would be too hard to have them leave, even to a happy new home. I'd want to keep them all!
These two items together might prove problematic.

LuLu had her vet check today, all is good except for a bit of a bladder infection,which antibiotics will take care of. Then we stopped at the Pet Food Center and she got a pretty new collar that FITS her. She was one tired girl when we came home from the excitement. My vet used to raiseEngloish Setters and I think he wanted to steal her!
Here are a couple pictures taken today to show off her new collar… and her new confidence! She seems to know that her old life is behind her.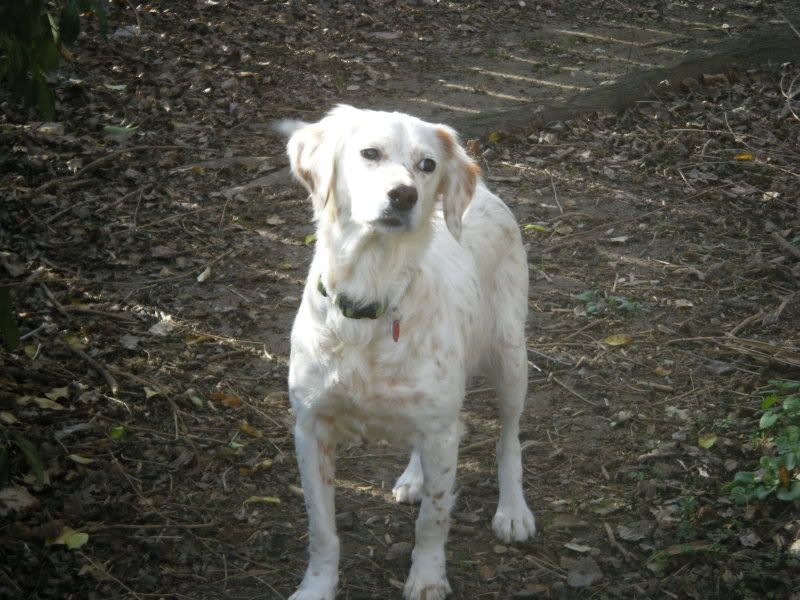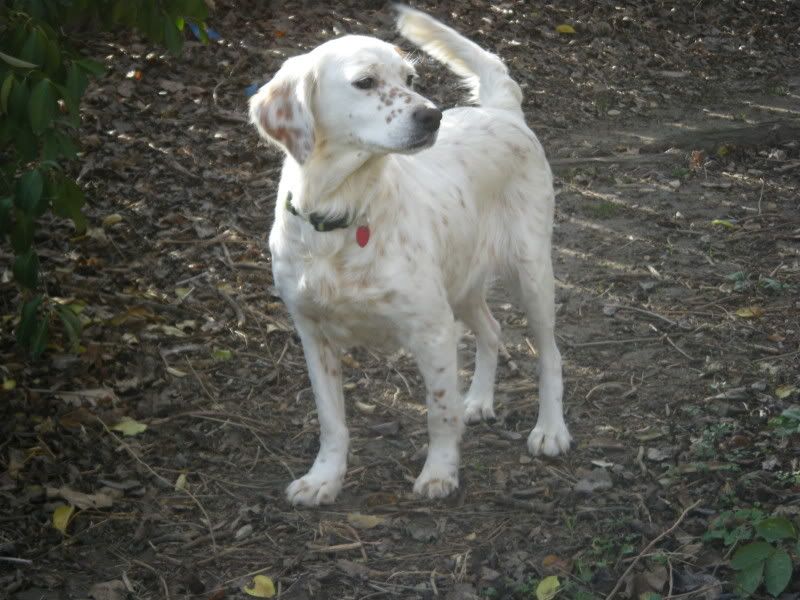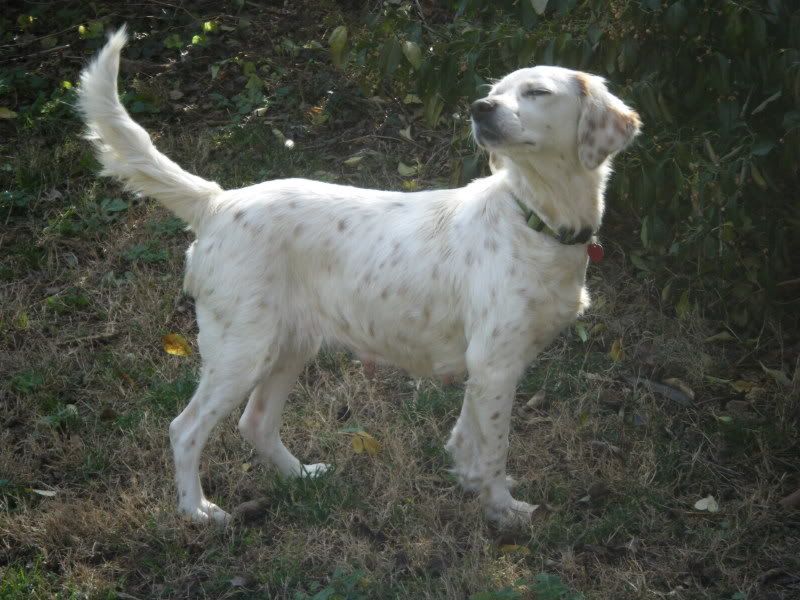 LOVE that third picture! She looks so happy.
That third is my favorite too… it is now my FaceBook cover pic!

PapSett - She looks great! I especially love the last pic.
My foster got her drainage tubes out last week - 10 drain tubes in a 15 lb dog. Hopefully she'll be in a new home soon.
StG
Now, now, let's not go overlooking the 2nd picture - love that freckled nose!

You're right, PapSett, she does seem to know she's in a better place now and OH WOW does that sound kind of wrong! Anyway, I'm glad you're able to help her transition to a happier, healthier life.
Dang!
Is it just me or do dogs look kind of odd with freckles?
Very happy-looking, very pretty girl!
Poor baby! What in the world happened to her?
Seanette - She was attacked by one of my dogs, probably the giant schnauzer.
StG
Poor puppy!
Does the schnauzer normally get aggressive with other dogs?
Aw, thanks for the pics! She looks great. I want to kiss those freckles until they wear off.

Looks like one happy puppy dog! You guys have fun together.
**Seanette ** - She's not normally one who will get physical, and she plays well with my other dogs (but they're all big dogs - a doberman, a standard poodle, two German shepherds and an English setter), but she does guard her food. The blood I cleaned up is mostly where her food bowl is in the kitchen. I think maybe Marley tried to help herself. My dogs just eat their food and let her guard hers.
StG
That is a truly gorgeous girl! The freckles and the pic of her basking in the sun made me smile.
You have SUCH a good heart, PapSett. You make me smile, too