Please show me that its just a made up story to make the Palestinians look back. Even I, as a frequent poster here arguing that Palestinian terrorism is really evil, am really shocked at what I saw in the newspapers today.
A kindergarten in Gaza had an end of the school year play where five-year-olds dipped their hands in blood and held them up triumphantly remenicent of the Rammala lychning.
For those of you who don't remember or never knew, here is the picture from hell that was re-enacted by the children;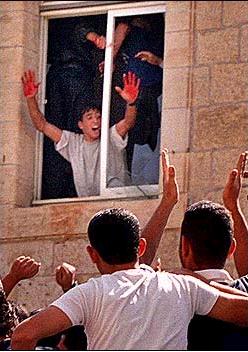 I really don't know what to say. I'm just shocked. For some reason, perhaps because I am an educator myself, I was particualarly shocked by this.